Monday, April 01, 2019: All systems are operating normally.
We are constantly monitoring our emails for spam messages. If you notice any of your emails being erroneously marked as ***SPAM***, please forward a copy of the message to techsupport@ameritel.net so that we can adjust your filtering.
WE ARE EXPERIENCING A LARGE VOLUME OF TECH SUPPORT CALLS. PLEASE LEAVE A MESSAGE IF WE ARE UNABLE TO ANSWER.
OR YOU CAN TEXT US @ 888-467-2647 (texting may be faster)
4/28/16: We discovered webmail.ameritel.net had a DNS error and users were being directed to port 81, which times out.
This error has been corrected. Users are now directed to port 2095 or 2096 (depending on your connection).
4/28/16: All emails are now on the new server. The new login screen is pictured below.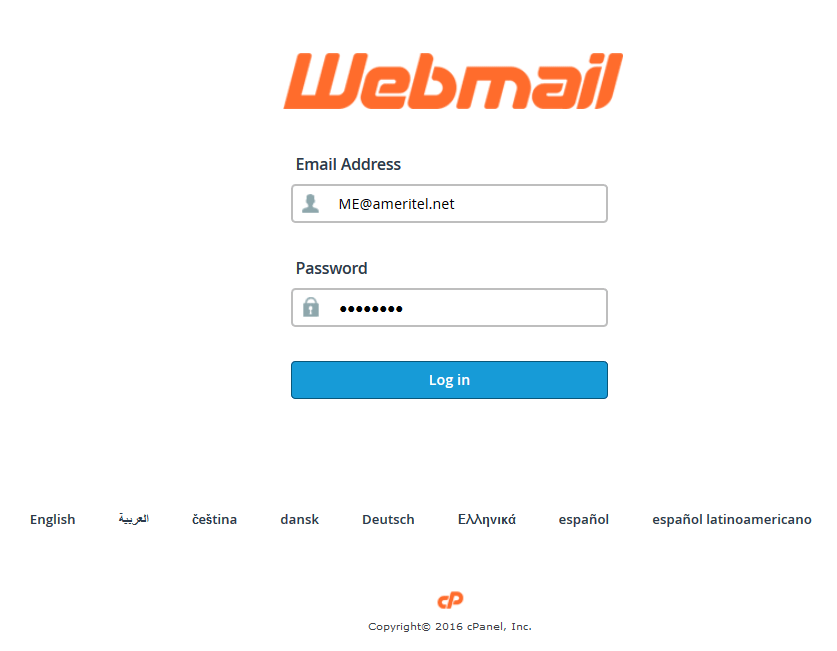 Previous update 4/27/16: The new mail server went online Monday after midnight.
However, some passwords did not pass the security test. If you are unable to log in using your password, please call 888-467-2647 for instructions, or text 888-467-2647 for your new password!!!
We are currently still copying older email onto the new server, so please be patient if all your emails are not yet in your mailbox. The process is taking a little longer than we originally planned.
We also have a program monitoring the old server to grab any new emails that find their way to the wrong location. So you may notice some emails that you deleted being redelivered. This will cease by the end of the week when we shut down the old server.
The new server uses port 110 for Incoming POP3 and either port 26 or 587 for Outgoing SMTP. Most of you will not have to make any changes to your email settings. The new Email settings can be found here
You can check out the new webmail http://ameritel.net:2095
We apologize in advance for any disruptions in service you may experience during the transition, but believe you'll be pleased with the end result.